In the beginning (1968), Bob and Lenora Temple started a pizza shop called La Pizzeria. It was housed in a building on Hill Road that was formerly occupied by a grocery store.
Having lived in Texas from 1963-1966, Lenora had acquired a taste and the beginning of a dream … a Mexican restaurant in West Portsmouth, Ohio.
In 1969, Mexican food was not well known in the area when La Pizzeria added tacos to their menu. (You could get a taco for .25!)
Four years later, the restaurant made its first move to a different location, 1819 Galena Pike. Bob and Lenora decided to change the name of the restaurant to Mex-Itali Inn because a wide variety of Mexican food was incorporated to the mostly Italian menu.
In early January, 1983, Mex-Itali Inn acquired the property of its present location (the site of the Old Union Mill).
After extensive remodeling changes in 1986 and 1998, Mex-Itali Restaurant has kept one thing the same – serving the highest quality food made from Lenora's own recipes.
Everyone at Mex-Itali will keep the tradition going as it was…..in the beginning.
—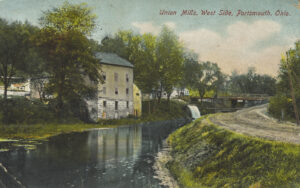 Whizzing by on the modern, four-lane concrete highway, you would scarcely give it a thought – just a big old messy ditch that appears to be for the purpose of drainage between the old and new highways in front of West Portsmouth, Ohio. Barely a hint reveals that just a few feet over the guardrail lay the remains of one of the most intriguing periods in the history of these great United States of America – the fabled Canal Days era.
… And I see the mystic shadows in the evening calm and still, as I listen to the music of the old Union Mill … from – "My Scioto Valley Home" by Wm. J. Fitzgerals
Union Mills seems to have always held a strong attraction for authors, artists and photographers. Old drawings and photographs depict an extremely busy center of commerce, somewhat removed from today's activities.
Construction of the Ohio and Erie Canal began in 1825. The canal ran south until it reached the base of Sugar Loaf Hill. Snuggled against the hill, three locks were required to descend into the wide Scioto River Bottoms. A seven-mile stretch north of Union Mills has no locks in the level canal, but here, locks 50 and 51 were needed to lower the boats down into a turnaround and docking basin, and lock 52 allowed the boats to head east toward Portsmouth. Lock 50 still survives today just north of the highway intersection.
The Ohio and Erie Canal opened on December 1, 1832. The canal ran between Lake Erie at Cleveland in northern Ohio to the Ohio River at Portsmouth in southern Ohio. This meant the Erie Canal connected with Lake Erie provided a direct route to New York City, and now trade with the populous East Coast appeared a certainty.